Jeep Safari
---
Jeep Safari tours available in the various wildlife sanctuaries in India, like - Rajaji National Park, Corbett National Park and Dudhwa National Park in U.P and Gir National Park in Gujarat are some of the best ones. You will get a whole new Jungle experience in these sanctuaries while moving about in a jeep. Jeep safaris can be a great experience in Thar Desert, the region, which is part of Rajasthan, the state where royalty can still be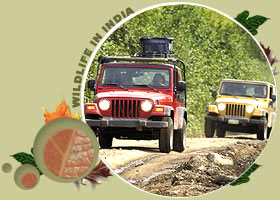 seen in its forts, havelis, and the colors that the place has on offer. Trans Himalayan jeep safari can prove to be most adventurous and rewarding of all the safaris that you have undertaken.
After all, going through a rugged terrain on a road that is second highest in the world (Manali - Leh) is not the kind of experience that you can have every other day in your life. if you don't want to get scared when you hear the growl of a Tiger! More of all jeep is the best way to get the inside look of the forest and its topography & also to cover maximum area to cover inside the forest in stipulated time frame. Jeep safari at the high altitude lake of India is another new attraction that has recently come up in this adventure activity. The high point trip of a trip to Leh is the drive to Pangong Lake.
The drive takes round about four hours to Changla Pass. At the first sight of the lake through the 'V' of the ridges of the valley all cameras, digital videos etc. came tumbling out. The azure lake beautifully set off the golden yellow of the mountainside, painted thus by the mellow rays of the evening sun, on a canvas of crisp blue sky. Considered to be the most arduous and at the same time exhilarating is the cross country jeep drive to the Pong valley.
Few of the Jeep Safari site in India:
Srisailam Sanctuary, Andhra Pradesh
Betla National Park, Bihar