Periyar Wildlife Sanctuary
---
Area :
Total - 777 Sq.Km. Core: 350 Sq.Km.
Periyar Lake - 26 Sq. Km.
Forest Cover : 360 Sq.KM.
This is one of the most prestigious regions on the high ranges of the western ghats. One of the world's most fascinating natural wildlife sanctuaries, the Periyar reserve is noted for its geomorphology, diverse wildlife and beautiful landscape. The drive to Thekkady itself is enchanting as the road winds through Tranquil countryside, rich plantations and thick jungles. The sanctuary, declared a tiger reserve in 1978 under the project tiger scheme, attracts travellers from all over the world. This is the only sanctuary in India where the wild elephant can be observed and photographed at close quarters. There are two watch towers in the Periyar forest.
Periyar National Park and Tiger Reserve is located in God's Own Country, Kerala. This wildlife sanctuary has a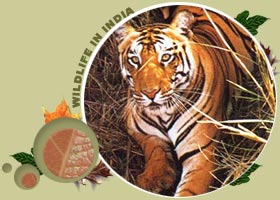 picturesque lake at the heart of the sanctuary. Though its a Tiger Reserve, tourists come here to view the Indian Elephants in the act of ablution and playfulness by the Periyar lake.
Periyar, is the best-known wildlife sanctuary in south India. Though billed as a tiger reserve, Periyar is really famous for its wild elephants, 100-year-old artificial lake and its setting in the beautiful thickly forested Western ghats. This is not your best shot at spotting the Bengal Tiger considering there are less than 40 of them that inhabit an area of 777sq.km but there's plenty of other game like the Nilgiri langoor, Nilgiri tahr, bison, deer, antelope and about 700 elephants to make the trip worthwhile.
The Asian elephant is diminutive compared to its larger African cousin but the thrill of spotting a herd of them lumbering through the dense shola forest or wading into a lake is going to be no less than seeing the African elephant in the Masai Mara grasslands. There are more than 700 of these large grey animals that have for a long time been a symbol of Indian exotica. Over a 100 species of butterfly and at least 240 species of birds inhabit the area. Around the park are some interesting aromatic spice gardens. Many have good guides who'll tell you about the medicinal value of each spice and maybe startle you with how much of the research is millennia old.
Entry Requirements
Entry permits to visit Periyar are available at the Wildlife Information Centre (near the boat jetty) in Thekkady. For foreigners, the permit costs Rs 50, and it's valid for five days. Charges for guided tours of the sanctuary and for boat trips, are extra.
Access
The nearest airport is not in Kerala but at Madurai (140 km) in Tamil Nadu. In Kerala, Thekkady is closest to the Kochi international airport (190 km). The nearest railhead is Kottayam from where it takes about 4 hours by bus, marginally lesser by car. Buses to Periyar usually originate and terminate at Aranya Nivas, a posh hotel inside the Park. They do halt briefly at the town of Kumily, just outside Periyar. The sanctuary is very well connected by bus to many towns in Kerala and neighbouring Tamil Nadu. There are bus connections from Ernakulam (6 hours), Kottayam (4 hours), Trivandrum (8 hours), Kovalam (9 hours), Munnar (4 ½ hours) and Kodaikanal (6 hours).
Jeep and elephant safaris are also a good perch from where to view the animal world. A little 'encouragement' from you would probably take the mahout off the beaten path to more rewarding locations. If you are staying outside the park then a rented bike or local bus will take you to the park's entrance. Most visitors tour the park on the two-hour boat rides around Periyar Lake. Rather than the larger sized public boats, which proportionately dim your chances of actually seeing game, go for a smaller private boat, which would correspondingly tilt the odds in your favour. Early morning and dusk are the best times for wildlife. In the afternoons they all tend to disappear into the shade of the thick forests.
A morning 'trek' is another great way of doing some serious game watching. A knowledgeable guide will take you to all the hot spots and point out anything interesting like pug marks (if you are really lucky) or chital droppings. Some hotels offer more serious treks into the forest that a keen enthusiast will enjoy.
Best time to visit
The tourist season is from September to May and particularly the Christmas - New Year holidays. From February onwards it starts getting warmer and though this could be distinctly uncomfortable, it has its benefits. The animals are easiest to spot now as elephant and chital (spotted deer) alike flock to the waterholes. Avoid weekends when the park can get quite full with people looking for a daylong getaway.
Wildlife Species :
Mammals - 35 Species Including The Wild Elephant, Tiger, Panther, Wild Dog, Gaur, Sambar, Barking Deer, Wild Boar, Sloth Bear, Malabar Giant Squirrel, Lion-Tailed Macaque, Civet, Leopard, Nilgiri Tahr, Nilgiri Langur Etc.
Reptiles - King cobra, Viper, Krait, a number of non poisonous Snakes, Bicoloured Frogs, Tortoise and Crocodiles.
Avifauna - 265 Species including Migrants. The great Indian Hornbill, Peafowl, Brahminy kite and black - Winged Kite. Aquatic birds Like Darter, Little Cormorant, Kingfisher, Black - Necked stork Etc.
Accommodation and other facilities
There are enough possibilities to suit different budget requirements both inside and outside the park. The entire gamut from cheap basic to expensive luxury will present itself before you. Inside the park it is also possible to stay in the very rudimentary set up of the observation tower or 'machaan' (like the hunters would in earlier days). This gives you a very good chance at game spotting. Be sure to carry bedding and food, and mosquito repellent or you might find it easier to stay up than you thought! Also carry sturdy and comfortable shoes for your nature walk, dull clothes, some warm and waterproof clothing, and mosquito repellent. Cameras and camcorders too are allowed into the park but the latter has to be accounted for with a ticket.
There are several restaurants outside the park including some fairly posh ones with great food and ambience. Inside the park it's a different matter altogether. The Rest Houses provide you with a cook but carry your own supplies. If you're camping out on the observation tower the entire bedding and eating arrangement has to be yours.
Accommodation tariffs in Periyar range from Rs 150 a night (in the state run guest house) to a steep Rs 7000 a night in the luxurious Lake Palace resort.