Wild Species In India
---
Snow Leopard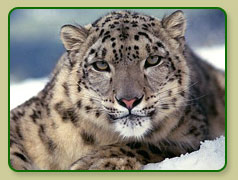 Snow leopard is a native animal of mountain ranges of central and southern Asia, including India. It is also known as Ounce and has a scientific name of "Panthera uncia". Snow leopards can live for a maximum of 18 years in then wild. In captivity, their lifespan increases to 20 years.
India is a roughly triangle-shaped country in southern Asia, bounded on the north by the world's tallest mountains--the Himalayas--and on the east, west, and south by oceans. The recent high-tech boom and growing middle class in India's bustling cities contrast with the centuries-old lifestyle of subsistence agriculture still common in rural areas. Rapid population growth over the past few decades--India is currently home to over a billion people--has placed growing demands on the country's natural environment and wilderness areas. Military conflict and the disputed border with Pakistan create additional conservation challenges in snow leopard areas.
Distribution
The strikingly beautiful snow leopard remains one of the most mysterious cats in the world. This roving, high altitude cat is rarely sighted by local people. Because it is so elusive, accurate population numbers are hard to come by, although estimates range from 100 to 200 individuals. Snow leopards live in the mountain regions of central Asia. In India their geographical cover encompasses a large part of the Western Himalaya including the states of Himachal Pradesh, J&K and Uttarakhand with a sizable population in Ladakh, Sikkim, Arunachal Pradesh in Eastern Himalaya in addition to Nepal, Bhutan and parts of China.
Behavior
We mostly find snow leopards leading isolated lives and rarely forming any groups. Usually, they kill animals, which are thrice as big as they are.
Mating behavior
The mating season of the snow leopard extends from January to May and the gestation period is usually of 98 to 103 days.
Diet
Snow leopards are carnivores and have a diet consisting of ibex, bharal, markhor, urial, boars, marmots and other small rodents.
Status
Snow leopards have been listed under CITES, Appendix I, Endangered Species Act. Their total population (throughout the world) ranges between 3,500 and 7,000 in the wild and 600 to 700 being in the various zoos of the world.
National Parks
Snow leopards are mainly found in the following national parks of India:
Hemis National Park, East Ladakh
Nanda Devi National Park, Uttarakhand (UNESCO Natural World Heritage Site)
Valley of Flowers National Park, Uttarakhand

Rajasthan Camel Safari Tours
---

Corbett Wildlife Tours
---

North East Wildlife Tours
---

Wildlife with Taj Mahal Tours
---

South India Wildlife Tour Package
---

Rajasthan Wildlife Holiday
---

Tiger Safari Holiday
---

Luxury India Wildlife Tours
---

India Nepal Wildlife Tour
---

Ranthambore National Parks Tours
---

Bandhavgarh National Park Tour
---

Wildlife Photographic Tours To India
---

Tiger Tour packages
---

Kerala Wildlife Tour
---

Rajasthan with Wildlife Tours
---

Taj Mahal Agra & Ranthambore Tiger Tour