Wild Species In India
---
Rhino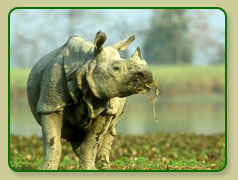 The Indian Rhinoceros (Rhinoceros unicornis) is also called Greater One-horned Rhinoceros and Asian One-horned Rhinoceros and belongs to the Rhinocerotidae family. Listed as a vulnerable species, the large mammal is primarily found in parts of north-eastern India and in protected areas in the Terai of Nepal, where populations are confined to the riverine grasslands in the foothills of the Himalayas. Weighing between 2260 kg and 3000 kg, it is the fourth largest land animal and has a single horn, which measures 20 to 57 cm (7.9 to 22 in) in length.
The Indian rhinoceros once ranged throughout the entire stretch of the Indo-Gangetic Plain but excessive hunting reduced their natural habitat drastically. Today, about 3,000 rhinos live in the wild, 2,000 of which are found in India's Assam alone.
General information
Weight: 1,800 - 2,700 kg (4,000 - 6,000 lbs)
Height (at shoulder): 1,75 - 2 m (5,75 -6,5 ft)
Length (head and body): 3 - 3,8 m (10 - 12,5 ft)
Horn length: 0,20 - 0,60 m (8 in - 24 in)
Lifespan: 40 to 50 years
Characteristics: only one horn and skin with large folds all over its body.
Type of Rhinos in India
There are five kinds of Rhinos found in the world :
Indian Rhino
White Rhino
Black Rhino
Javan Rhino
Sumatran Rhino
Indian Rhino Behaviour
Indian Rhinos may reach speeds of 40 km/h (25 m/h) and are extremely good swimmers.
Indian Rhinos are primarily solitary except for the females when they have a calf.
Indian Rhinos have home ranges of 2-8 square kilometers in size.
Males are loosely territorial.
Indian Rhinos feed during the morning and evening and spend the afternoon wallowing in lakes, rivers and ponds.
Indian Rhino Diet
Indian Rhinos are primarily grazers but occasionally also browse.
Indian Rhinos prefer wetlands and also are known to feed on aquatic plants while in the water.

Rajasthan Camel Safari Tours
---

Corbett Wildlife Tours
---

North East Wildlife Tours
---

Wildlife with Taj Mahal Tours
---

South India Wildlife Tour Package
---

Rajasthan Wildlife Holiday
---

Tiger Safari Holiday
---

Luxury India Wildlife Tours
---

India Nepal Wildlife Tour
---

Ranthambore National Parks Tours
---

Bandhavgarh National Park Tour
---

Wildlife Photographic Tours To India
---

Tiger Tour packages
---

Kerala Wildlife Tour
---

Rajasthan with Wildlife Tours
---

Taj Mahal Agra & Ranthambore Tiger Tour