Wild Species In India
---
Nilgiri Tahr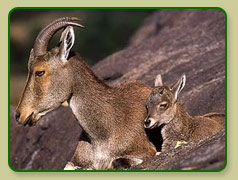 These stocky but agile mountain animals, considered to be primitive cousins of true goats, are found in the vast terrain and grass-covered hills of Northern India and the Western Ghats . Herbivores, they are found at altitudes above 2,000 m. According to reports, they once roamed at will in vast herds all over the Nilgiri Hills, but by the end of the 19th century, uncontrolled hunting and poaching, and habitat degradation had reduced their numbers to barely 100. Even so, they survived. Today the largest population of Nilgiri Tahrs is found at the Eravikulam National Park , Kerala.
Nilgiri Tahr is a special type of mountain goat found in the high altitude grasslands of the Western Ghats in south India. Locally known as 'Nilgiri ibex', it resembles the domestic goat in appearance. A grown-up male Tahr is 100 cm tall at the shoulder and weighs around 100 kg. It is dark brown with a tinge of black color. Females are smaller in size and weight and are grayish in color. Horns that curve backwards are the specialty of both male and female goats. Eravikulam National Park near Munnar houses a small amount of Nilgiri Tahrs.
Description
The Nilgiri Tahrs are stocky goats with short, coarse fur and a bristly mane. Males are larger than the females, and have a darker color when mature. Both sexes have curved horns, which are larger in the males, reaching up to 40 cm for males and 30 cm for females. Adult males weigh 80-100 kg and stand about 100 cm tall at the shoulder.

Rajasthan Camel Safari Tours
---

Corbett Wildlife Tours
---

North East Wildlife Tours
---

Wildlife with Taj Mahal Tours
---

South India Wildlife Tour Package
---

Rajasthan Wildlife Holiday
---

Tiger Safari Holiday
---

Luxury India Wildlife Tours
---

India Nepal Wildlife Tour
---

Ranthambore National Parks Tours
---

Bandhavgarh National Park Tour
---

Wildlife Photographic Tours To India
---

Tiger Tour packages
---

Kerala Wildlife Tour
---

Rajasthan with Wildlife Tours
---

Taj Mahal Agra & Ranthambore Tiger Tour