Wild Species In India
---
Yak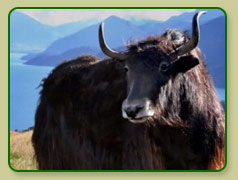 Yaks are found in the wild in the Ladakh region of Jammu and Kashmir, India. Yaks have been domesticated in Ladakh for thousands of years and are a very valuable animal in the Himalayan economy. The yak is used as a beast of burden to carry loads and to plough fields. The local people also drink its milk and eat its meat. The Yak's thick hair is used to weave blankets and ropes and Yak dung provides fuel in the treeless areas of Ladakh and the Tibetan Plateau.
Yak - The largest animal of this cold desert is the yak (dong), a wild ox. First described only a century ago by the famous Russian naturalist-- explorer, N. M. Przewalski, the wild yak is definitely more imposing than its placid domestic counterpart. Immensely shaggy and weighing about a ton it has curved horns whose tips can be as wide apart as 90 cm. and measure 76 cm. over the curves. It can easily be distinguished by its long black hair, which is tinged with gray at the muzzle. Spending its summers at a height above 6,000 meters, in winter it moves in herds to the lakes, marshes and lower valleys. It is this highly insulated shaggy coat which helps Yak to survive in such extreme cold.
Yak safari
The snow clad mountains are the perfect place for taking up Yak ride in Himachal Pradesh. The best places in Himachal Pradesh to enjoy Yak ride is Kullu, Kufri and Solang valley and all those stations that have the tendency to be covered with plenty of snow. Enjoy Himachal Pradesh vacations and take up yak safari tours to bask these herd animals that are famed for their long hair and supply of milk, fiber and meat. Found primarily in the highland areas, these beasts are also an important source of entertainment at traditional Tibetan Festivals. Though yaks live above the height of 6,000 m, one can find them near the lakes and marshes in the winters. This meek looking hospitable animal is dangerous and has curved horns and long black hair.
Take up Himachal Pradesh tourism to enjoy the most favorite sport of Yak safari in HP. Enjoy the excitement of riding on a yak, which is the best way to explore the endless panorama of Himachal Pradesh.

Rajasthan Camel Safari Tours
---

Corbett Wildlife Tours
---

North East Wildlife Tours
---

Wildlife with Taj Mahal Tours
---

South India Wildlife Tour Package
---

Rajasthan Wildlife Holiday
---

Tiger Safari Holiday
---

Luxury India Wildlife Tours
---

India Nepal Wildlife Tour
---

Ranthambore National Parks Tours
---

Bandhavgarh National Park Tour
---

Wildlife Photographic Tours To India
---

Tiger Tour packages
---

Kerala Wildlife Tour
---

Rajasthan with Wildlife Tours
---

Taj Mahal Agra & Ranthambore Tiger Tour