Wild Species In India
---
Indian Birds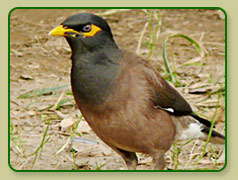 Indian birds are of many types and species and are found spread throughout the length and breadth of the sub-continent. The Indian sub-continent itself is home to 13 percent of the total bird species found in the world. The vast variety of exotic birds found here attracts tourists and bird-watchers and eco-tourists form all parts of the world. With more than 1250 species of birds, India and the rest of south Asia is held to be a paradise for bird watching. There are over 925 breeding species. The Indian birds belong to 16 groups called `Orders`, which are further divided into `Families`, `Sub-Families` and `Genera`. For birding in India, 13 bio-geographical regions can be demarcated: Trans Himalayan, Western Himalayas, Eastern Himalayas, Desert, Semi-arid, Gangetic plain, Central India, Deccan plateau, Western Ghats, Eastern Ghats, Northeast Coasts and Andaman and Nicobar islands. The Blue Peafowl (Pavo cristatus) is the national bird of India.
Indian Peafowl
Indian Peafowl is the National Bird of India. Its most attractive part are the train of feathers. It is the most beautiful bird found all over the world. It is found in almost all the parts of India.


Indian Roller
Also called as Blue Jay. Indian Roller is considered as sacred among the Hindus. They are sometimes haunted for sports and food. Indian Roller is omnivorous.


Great Indian Bustard
Great Indian Bustard is the long legged bird. Both the males and females are similar in appearance. Their largest protected area is the Desert National Park in India.


Lammergeier
Popularly called as Bearded Vulture. It is wide found in the Indian Himalayas and can beeasily be spotted in the Dachigam National Park in India.


White Rumped Shama
White Rumped Shama is the popular singing bird. It is an insectivore. It prefers dense jungles and lowlands up to 1500 m. On the birding tour to India, it can be spotted in the Royal Chitwan National Park.


Sarus Crane
Sarus Crane is the World's tallest flying bird. It is as tall as the man. Sarus Crane is regarded as the threatened species. On the tour to India it can be spotted in the Bharatpur Bird Sanctuary.


Grey Heron
There are four sub-species of Grey Heron. They make nests in colonies and wetlands. Their longevity exceeds to 25 Years of age. They can be located in the Bharatpur Bird Sanctuary in India.


Brown long eared Bat
Listed as vulnerable by the IUCN, Brown Long Eared Hedgehog is a medium size Bat with the pink face. They are mostly spotted in the central and western parts of India.


Comb Duck
Comb Duck is mainly found in the northern parts of India. They prefer places are away from the human settlement. They usually mates during the rainy season. It can easily be spotted in the Sultanpur Bird Sanctuary.


Common Kingfisher
Common Kingfisher is one of the most popular birds found in India. Cold weather has seriously declined the population of Common Kingfisher. It can be spotted in Bharatpur Wildlife Sanctuary in India.


Cuckoo - The Koel
Cuckoo- the Koel is the most melodious bird of India. They are highlighted with the yellowish green bill and crimson eyes. On the tour to India they can be spotted in the Sultanpur Bird Sanctuary.


Garganey Teal
Garganey Teal is a small dabbling duck. Garganey Teal prefers shallow marshes and steppe lakes. Garganey feeds on aquatic plants, seeds and invertebrates. It is spotted in the Bharatpur Bird Sanctuary in India.


Grey Junglefowl
Grey Junglefowl are gray black in colour with white stripes. Natural habitat of Grey Jungle Fowl is forest undergrowth and bamboo thickest. They are widely found in the southern and western parts of India.


Mallard
Mallard is the most widespread bird. Its population is currently increasing. It usually nests near water sites. Average lifespan of Mallard is 29 years. You can spot Mallard in north and central parts of India.


Red Junglefowl
Red Junglefowl is well distributed in all the parts of India. It prefers thick secondary forest or wide open areas. It is classified as Least Concern (LC) on the IUCN Red List 2006.

Rajasthan Camel Safari Tours
---

Corbett Wildlife Tours
---

North East Wildlife Tours
---

Wildlife with Taj Mahal Tours
---

South India Wildlife Tour Package
---

Rajasthan Wildlife Holiday
---

Tiger Safari Holiday
---

Luxury India Wildlife Tours
---

India Nepal Wildlife Tour
---

Ranthambore National Parks Tours
---

Bandhavgarh National Park Tour
---

Wildlife Photographic Tours To India
---

Tiger Tour packages
---

Kerala Wildlife Tour
---

Rajasthan with Wildlife Tours
---

Taj Mahal Agra & Ranthambore Tiger Tour