Wild Species In India
---
Deers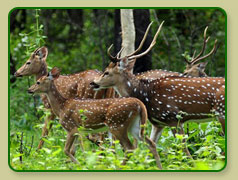 Kingdom : Animalia
Phylum : Chordata
class: Mammalia
Order : Artiodactyla
Suborder : Ruminantia
Family : Cervidae
Subfamily: Cervinae
Genus : Cervus
Species: C. unicolor
Zoological name : Cervus unicolor
Found In : Kanha, Corbett, Ranthambore, Bandhavgarh, Gir, Dudhwa, Manas, Kaziranga National Park in India
The most common of all deer found in the subcontinent, it is easily identifiable by its beautiful golden brown coat that is decorated with big white spots. An average stag is about 85-90 cm tall at its shoulder, and weighs 80kg. Unlike other ungulates, the coat of the spotted deer remains more or less the same throughout the year. Large herds can be seen in almost all the National Parks of North India.
One of the rarest and most localised deer in the world - and quite obviously, the most endangered deer species in the world. The Sangai is confined to a wetland area to the south of Logtak lake in Manipur (northeast India). Captive breeding efforts have helped bolster its zoo population. The spotted deer has what can be called a 'memorandum of understanding', with lemurs. Lemurs keep it informed about any possible attack from its predators. The spotted deer also benefits from the leftovers that lemurs keep dropping from trees. In fact, the relation between the two species is so symbiotic that they explore the jungle together.
Habitat
: Sambar Deer prefers marshy and wooded areas to live.
Diet
: Sambar deer feeds on leaves, vegetation, herbs, fruit, bamboo buds and mushrooms.
Reproduction
:The breeding period is mainly during the months of November and December. The gestation period rests for almost 6 months after which single offspring is born. The young ones are weaned at about 7 months of age.
Conservation status
: Least concern
Lifespan
: The life expectancy of Sambar Deer exceeds up to 16 -20 years of age.

Rajasthan Camel Safari Tours
---

Corbett Wildlife Tours
---

North East Wildlife Tours
---

Wildlife with Taj Mahal Tours
---

South India Wildlife Tour Package
---

Rajasthan Wildlife Holiday
---

Tiger Safari Holiday
---

Luxury India Wildlife Tours
---

India Nepal Wildlife Tour
---

Ranthambore National Parks Tours
---

Bandhavgarh National Park Tour
---

Wildlife Photographic Tours To India
---

Tiger Tour packages
---

Kerala Wildlife Tour
---

Rajasthan with Wildlife Tours
---

Taj Mahal Agra & Ranthambore Tiger Tour