Wild Grass Lodge
---
Wild Grass Lodge is situated on the south bank of the Brahmaputra river, near Kaziranga National Park (Assam,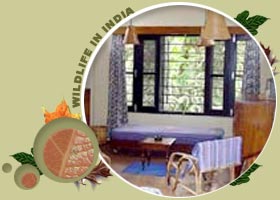 India) is famous for the stronghold of the armoured one-horned Indian Rhinoceros. Kaziranga National Park is home also to elephants, sloth bears, tigers, leopard cats, jungle cats, hog badgers, capped langurs, hoolock gibbons, pigs, jackals, porcupines, pythons, wild buffaloes, Indian bison, swamp deer, sambhars and hog deer. Besides these, the park has a respectable avian population, which increases considerably in the winter, when migrating birds visit the park.
This Lodge is a Jungle Lodge located outside Kaziranga National Park in the state of Assam. It is about 200 km away from Guwahati. It is an attractive rural style hotel with grounds having more than 40 species of trees over 200 species of shrubs, creepers and climbers.
Attractions
Wildlife viewing by jeeps, elephant ride & open-trucks
Bird watching
Nature walks
Trekking in the park
Visit to the Ranthambore fort and sightseeing to other nearby places
Facilities
Three meals a day including tea
Village visit, Tea garden visit with prior permission
Tribal village visits
Nature trek
All wildlife viewing by jeeps with a guide
Breakfast & packed lunch upon departure