Wild Ass Wildlife Sanctuary
---
Wild Ass Wildlife Sanctuary is situated in the region of the Little Rann of Kutch in Gujarat, the sanctuary is around 150 km off Ahmedabad. The sanctuary lies between the latitude 23.26° North and longitude 71.20° East. The region is well connected to other parts of the state through regular road transport.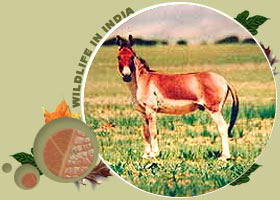 A safari through the Indian Wild Ass Sanctuary in the Little Rann of Kutch in northwest Gujarat is a unique experience. A safari through this region gives one a chance to come face to face with a wide variety of birds and other wildlife.
The Rann of Kutch is full of dry thorny scrub and there are no large trees. The main vegetation in the region includes many species of grasses that are widely available as the source of food for the wild Asses. The most famous wildlife of the region includes the Indian Wild Ass, as well as the chinkara, desert fox, jackal, desert cat, caracal, nilgai, wolf, blackbuck, and striped hyena.
The climate of the region is extreme with May being the hottest month. The average temperature during this time is around 31°C. January is the coldest month with an average temperature of 11°C. During the monsoon, the whole region becomes flooded with rainwater.
Bhuj, situated around 150 km is the nearest airport. There are regular flights to Mumbai from Bhuj. Dhangadhra situated around 22 km from the sanctuary and 130 km from Ahmedabad is the nearest railway station. The place is connected to all the major cities in the region. The sanctuary is well connected to the other important places in the state. We(indianvisit.com) can provide you all tourist permit car/coach, for the city and intercity drives and can look after all your travel related services.