Rajaji National Park
---
Area :
820 sq. km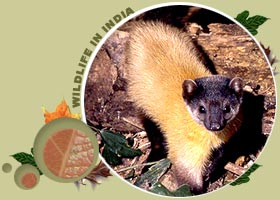 Altitude :
300 TO 1350 MTS
Tourist Season :
Nov. 15 to June 15
Surrounded by the major cities like Dehradun, Rishikesh & Haridwar,
Rajaji National Park
has the significance due their beauty and religeous importance. The abundance of nature's bounties heaped in and around this park, are bound to attract a large number of wildlife conservationists, nature lovers and eco-friends to visit this most breathtaking wilderness area.
Spread over an area of 820.42 sq Kms., Rajaji is a magni- ficient ecosystem nestled in the Shivalik ranges and the beginning of the vast Indo – Gangetic plains, thus representing vegetationof several distinct zones and forest types like Sal forests, Reverine forests, Board –leaved mixed forests, Scrubland and grassy. It posses as many as 23 species of mammals and 315 birds species.
Main Attractions
Herd of Elephants, Leopard, Jungle Cat, Himalayan Yellow Throated Marten, Sambhar, Cheetal, Barking Deer, Wild Boar, Slothy Bear, Langoor, Goral, Monitori Lizard, Python, Civet and King Cobra.
Birds
Pea Fowl, Jungle fowl, Kaleej Phaeasant, Horn-Bill, Wood Pecker, Thrushes , King Fisher, Parakeet, Warbler, Barbet finch, Indian Roller, Oriole, etc. And several species of migratory birds in winter season.
Rajaji National park is accessible from many directions by road, rail and air. Bus services and overnight trains are available for Dehradun and Haridwar from Delhi and Lucknow. This national park is very well connected by road from Saharanpur which in turn is very well connected by rail to Delhi, Amritsar, Lucknow, Jammu Tawi and Calcutta. Jolly Grant Airport which is only a few kilometers away from the Northern Boundary of the Park has a daily 50 minutes flight from Delhi. Following are the main roads by which one can go to the different areas of Rajaji Park.
Moradabad, Haridwar State Highway
This is a connecting road between Lucknow-Delhi highway and Haridwar. By this road one can go to the Chilla, Gohri, Ranipur forest and forest areas adjoining Haridwar of the Rajaji Park. For easy approach and access, there are several entry gates to the park.
Dehradun Delhi State Highway
It almost forms the western boundary of Rajaji Park. Mohand is the important station on this road where a forest road goes inside the park.
Dehradun Doiwala, Rishikesh, Haridwar State Highway
This is the most convenient road. By this road one can go to the Ramgarh, Motichur, Kunao and Chilla Forests of Rajaji Park.