Pench National Park
---
Area : 757.85 sq kms/75,785 hectares Declared as Wildlife Sanctuary in 1977. Declared as National Park in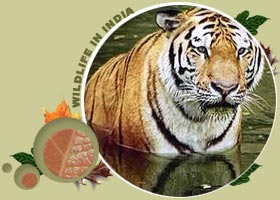 1983 Declared as Tiger Reserve in 1992
Description
Pench National Park is a part of the Project Tiger network of special reserves. Pench is one of the most accessible tiger reserves in the country, just 90 kilometres (1 hour and 30 minutes) north of Nagpur. The Reserve is located in the southern reaches of the Satpura hill range in the Seoni and Chhindwara districts in the Madhya Pradesh State of India. The terrain is undulating, with most of the area covered by small hills, steeply sloping on the sides. The description of its natural beauty, richness in flora and fauna has appeared in numerous wildlife books dating back to the 17th century. Books written in the 19th and early 20th century by famous naturalists like Captain J. Forsyth and Rudyard Kipling's Jungle Book explicitly present the detailed panorama of nature's abundance in this tract.
Season
The Pench National Park is open to the visitors from November 01st to June 30th each year and closed during the rainy seasons (July- October)
Temperature
October to January 2-16° Celcius
February to March 16 - 26° Celcius
April to June 26 - 42° C
Average Rainfall 1177 millimetres
Park Safari Timings
| | | |
| --- | --- | --- |
| Months | Morning | Afternoon |
| 01 November - 15 February | 0600-1220 | 1500-1830 hrs |
| 16 February - 30 April | 0600-1220 | 1600-1830 hrs |
| 01 May - 30 June | 0600-1100 | 1700-1830 hrs |
Accomodation
Bagh Van - Upper-End
Bagh Van Lodge is just five minutes away from the entrance of the Pench National Park. It is hidden away amongst the thickly wooded banks of a seasonal stream, which, in the dry season serves as a pathway for tiger, leopard and other animals inhabiting the fringe of the forest. The lodge has cottage-type accommodation, each with a bedroom, bathroom and verandah. The lodge has a main dining & lounge area with a mix of open and enclosed spaces. Local bamboo furniture has been used in the rooms. The rooms and bathrooms are provided with large windows to allow sufficient natural light. Guests staying at BaghVan can go for guided nature walks, go for game drives to Pench, enjoy boat rides or elephant rides. Also they can visit the local haat/Bazaar in the nearby villages.
Pench Jungle Camp - Upper-End
Pench Jungle camp is spread out over 11acres with 12 Deluxe Safari style canvas tents, waterproof, pitched on a platform. Also 4 spacious A/C rooms with attached toilets are there for the creature comfort lovers. All the rooms have attached bathroom, tiled, running hot and cold water, with LPG Geysers, anti skid bathroom tiles. Other services and facilities include a 9 hole putting green spread out in 2.5 acres of carpet grass, 400 feet water stream running through the camp with fish and Lotus, Billiards room, Pool table, Badminton courts, host of indoor games, swimming Pool ( to be ready by April 2004), with a filtration plant, Wildlife research center, Coffee maker in room and multi cuisine Restaurant
Flora
The forest type is southern tropical dry deciduous teak and southern tropical mixed deciduous forest with other species of shrubs, trees and climbers. Pench is dotted with teak and its associates moyan, mahua, mokha, skiras, tendu, bija, achar, garari, aonla, bhaman, ghont, baranga, amaltas, kihamali, khair, bhirra, palas. Bamboo occurs sparsely, restricted to some valleys.
Birds
Pench is haven for birds with more than 200 species recorded from here including the migratory waders and the ducks. It is pretty easy to spot birds like the Crested Serpant Eagle, Changeable Hawk Eagle, Painted Francolin, Malabar Pied Hornbill, Collared Scops Owl and many other species
Mammals
Tiger, leopard, jungle cat, leopard cat, striped hyaena, wild dog, wolf, common mongoose, sloth bear, pangolin, spotted deer, sambar, barking deer, nilgai, wild pig and gaur apart from exciting small mammals like flying squirrels, palm and small civet, common and ruddy mongoose etc.
Access
By Air
Airport - Sonegaon Airport, Nagpur (93 km from Pench National Park) Nagpur is the nearest airport connected to Mumbai and other places by regular flights.
By Rail
Railway Station - Seoni Railway Station (30 km from Pench National Park) Seoni is the nearest railway station connected to Mumbai and other places in the region by regular trains.
By Road
The nearest bus stand is at Seoni from where one can take buses or jeeps to the Pench National Park. Seoni is connected to almost all the places in Madhya Pradesh and Maharashtra by good road and rail networks.