Panna National Park
---
Location :
Chattarpur district, 57 kms from Khajuraho, 727 kms from Bhopal, Madhya Pradesh. Coverage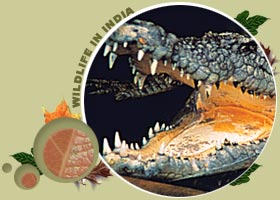 Area :
543 sq-kms.
Main Attractions :
Deer, Chital, Crocodile
Best Time To Visit :
November To April
Panna National Park is located in the central Indian state of Madhya Pradesh. It is one of the best in the centre region. The river Ken passes through the park, adding to its scenic beauty. You can view wildlife in jeeps, boats or on foot. It is close to Khajuraho and forms an ideal halt for people going to Bandhavgarh and Kanha national parks.
Fauna
The predominant species that inhabits the park is the deer, of which the most easily sighted are the graceful little Chinkara, the Indian gazelle, and the Chital. Other species that have their habitat in the park are Nilgai, Sambar, Chausingha or four-horned Antelope, Blackbuck, Sloth Bear, Leopard and the ubiquitous common Langur. Tiger Panthera tigris (occasional), leopard Panthera pardus, striped Hyaena , jackal Canis aureus, jungle cat Felis chaus) chital Axis axis, sambar Cervus unicolor, nilgai Boselaphus tragocamelus, four-horned antelope (chowsingha) Tetracerus quadricornis, wild boar Sus scrofa, chinkara (mountain gazelle) Gazella, crocodile and others. Bird life of lake includes barheaded geese, duck and spoonbills and on the shores flocks od demoiselle cranes.The National Park is equally rich in avifauna. The artificial lake, Chandpata, is the winter home of migratory Geese, Pochard, Pintail, Teal, Mallard Gadwall, Red Wattled Lapwing, Large Pied Wagtail, Pond Heron, White - Breasted Kingfisher, Cormorant, Painted Stork, White Ibis, Laggar Falcon, Purple Sunbird, Paradise Flycatcher and Golden Oriole.
Accommodation
Several hotels and clubs nearby managed by the State Tourism Development. Corporation and the Direction, National Park.
Arrival Information
By Rail
Satna, at a distance of around 90 km, is the nearest railway station. It is a major railway hub and is connected to many places in central and western India, the most important of them being Mumbai at a distance of 1,540 km.
By Air
The nearest airport is at Khajuraho at a distance of around 57 km from the Panna National Park. There are daily Alliance Air flights to Delhi, Mumbai and Varanasi from Khajuraho.
By Road
The park is well connected with the other parts of the region by a good network of roads. Distances of some important places in India from the Panna National Park are Khajuraho 57 km, Bhopal 727 km, Delhi 889 km, Chennai 1761, and Calcutta 1040 km.
Nearby Excursions
There are also tourist facilities like boating on the lake.
Nearby Cities
Khajuraho