Nagarhole National Park
---
Also known as Rajiv Gandhi National Park, Nagarhole National Park has an astonishing abundance of wildlife,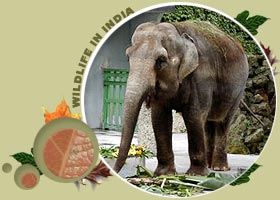 especially the Asiatic elephant. The backdrop of the distant misty blue Brahmagiri Mountains, the natural sounds of the jungle, the gurgling of streams and rivers and the twittering of the birds make Nagarhole a memorable experience.
Welcome to one of the best places in the world to find the tawny, black-striped Royal Bengal Tiger, elusive and stealthy, noble and regal: Nagarhole. Karnataka's Nagarhole National Park (officially known as the Rajiv Gandhi National Park) is part of the Nilgiri Biosphere Reserve, India's largest stretch of protected forest, an area which includes, besides Nagarhole, the neighbouring sanctuaries of Bandipur, Mudumalai and Wynaad. Established in 1955 as a wildlife sanctuary, Nagarhole was designated a national park twenty years later. The park today stretches in a series of gentle hills and valleys, over an expanse of 640 sq km, north of the river Kabini. The park is centred around a perennial water reservoir formed in 1974, when the Kabini River was dammed.
Nagarhole's vegetation is refreshingly different from Bandipur's dry scrub- moist deciduous forests, including bamboo, teak, eucalyptus and cassia, cover much of the sanctuary, providing a refuge for a wide range of animals and birds. Nagarhole has all the resident wildlife of the Nilgiri hills: Nilgiri tahr, Nilgiri langur, bison, leopard, Asian elephant, wild boar, deer, dhole (wild dog) and porcupine, besides tigers. A high canopy of trees- up to thirty metres tall in some places- harbours rare birds such as the endangered Malabar trogon, the Malabar pied hornbill and the crested hawk-eagle.
Nagarhole saw some upheavals in 1992, when quarrelling between the wardens of the park and the local villagers resulted in arson which had an enormously adverse impact on the park and its wildlife. It will still take a few years for Nagarhole's forest and animal count to get back to normal but there has already been a resurrection of sorts and things get better every year.
Entry Requirements
An entry permit, costing Rs 15, is applicable for all visitors to Nagarhole. It can be obtained at the entrance to the park. Charges for boat rides, jeep or elephant safaris and accommodation are additional.
Access
The major railhead closest to Nagarhole is Mysore, 80 km away, with train connections to a large number of towns and cities across peninsular India. Nanjangud, 55 km away, also has trains coming to it, but they're fewer in number. Bangalore, with excellent air and rail links to the rest of the country, is about 220 km from Nagarhole, while the hillstation of Ooty is about 240 km from the park. Buses connect Nagarhole to Bangalore (a ride of about 6 hours) and to a network of smaller towns across Karnataka, Tamilnadu and Kerala. Alternately, you could hire a vehicle in one of the larger towns- Bangalore is especially convenient- to get to Nagarhole.
Within the park, there's ample scope for wildlife watching. Jeeps can be taken for a drive through Nagarhole, or you can go off on elephant safari- the best way, in fact, to go deep into the jungle. Hiking is also allowed through the park, although only in some areas where there are fewer chances of encountering a hungry tiger or a masth elephant! The lake is open for a slow coracle ride or a swift motorboat skim.
Best time to visit
Nagarhole can be visited all through winter and through the pre-monsoon half of the summer. The winter months from November-February are exceedingly pleasant, and are the best time to go if you don't like being hot and sweaty. The summer, on the other hand, though it may be pretty hot, is a great time to see wildlife, including the tiger. The dry, hot season (March-May) is the time when the animals gather at the lake, allowing for great wildlife viewing. The monsoons (June-September) are best avoided, as the entire road network gets washed out, and leeches and dense undergrowth proliferate in the forest.
Accommodation
State-owned forest resthouses, private lodges and cottages are among the accommodation options in Nagarhole. Reservations for the forest resthouses must be made at least 15 days in advance by contacting the warden's office in Bangalore or Mysore. There is also a posh river lodge (state-run) at the Kabini River, which, though it comes for a high-end price, also offers a great experience. A double room at the Kabini River Lodge costs about Rs 2,750 (or US$125, for foreigners) per night, while cottages come for around Rs 2,000- all inclusive of meals, sightseeing, safaris and more. Rooms at private lodges range between Rs 2,000- 3,000 per night.
Similarly-priced accommodation options exist in towns just outside the Park, at Veerana Hosahalli and at Siddapura in Coorg.
Further information on Nagarhole National Park can be obtained from the Field Director, Project Tiger, Aranya Bhawan, Ashokpuram, Mysore or the Chief Wildlife Warden, Aranya Bhawan, 18th Cross, Malleswaram, Bangalore.