Marine National Park
---
Gujarat has the distinction of creating the country's first Marine National Park spread over an area of nearly 458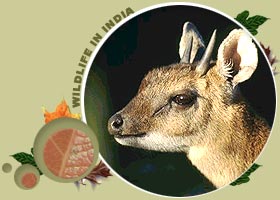 sq.kms. in the Gulf of Kutch, 30 km. from Jamnagar. Here corals create fantasies in stone and are the master builders of the Park. Their limestone fortresses – those found near the Pirotan Islands and the rich moist deciduous forests like those found in the dense forests of the Danes. One of the most threatened birds, the great Indian bustard finds a refuge in certain pockets of protected areas. The world's only four-horned antelope, the chowsingha is found here in healthy numbers. One of the largest herds of blackjacks grace the grasslands of Velavadar and till recently Gujarat was the place where flamingos nested in huge numbers. Dugong, a marine mammal which resembles a seal, along with the rare Borolo species have found home in the protected areas of the Marine National Park.
Each one the work of a colony of countless tiny animals - come in an amazing variety of shapes and sizes, from the convolutedbrain coral corals that look like horns. Here you will find plants that look like animals and animals that look like plants. Turtles, shrimp, sponge, eels, sea urchin lurk among the corals and huge schools of fish create a brilliance of colors that are unknown, unseen and unimaginable to us. There are fishes to be seen which puff-up when threatened, octopuses that mimic the color and texture of the surroundings in the blink of an eyelid so as to vanish without a trace.
There are Gobi's which clean parasites from other fish and fishes who burrow so deep only their eyes are seen. You will easily spot fishes that look like stars and spot dolphins herding schools of fish for a hearty meal. Dugong, a marine mammal which resembles a seal and the rare Boralia species are found in these protected areas. At times it seems as if every life form here is familiar with the art of magic as each seem to trick the other for food and shelter. Above the waters, mangrove plants with their tangled roots and densely packed leaves prevent land based predators from penetrating but provide scores of birds with nesting and roosting sites. There is no doubt that life in the coral reef is like witnessing a thousand rainbows in a kaleidoscopic way.
Contact
Conservator of Forests, Marine N.P. Jamnagar. Phone: 0288 552077.
Accommodation
PWD Rest House and Hotels at Jamnagar (Approx. 30 km.)
Beautiful habitat such as this waterfall is not a rarity, but are there for the interested tourists to discover in all our National Parks and Sanctuaries.