Manas National Park
---
Manas National Park or Mana, also known for its Rhinos and Elephants, is Assam's one of the two Tiger projects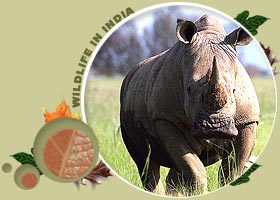 of Assam (second one is Nameri Tiger Reserve) and extends over varied territory, taking in hills and river valleys on the border with Bhutan. The scenic beauty and rare wealth of wild life combine with this unique world heritage site to offer one of the most enthralling experiences.
This reserve forest cum national park had been declared as a tiger project in 1973. Of the present 18 Indian Tiger Projects, Manas is the ninth one. The area is 391-sq-km and the area of the tiger project being 540-sq-km. Manas and its armlet Benki and Hakua draw a front line between India and Bhutan, on the west is Sankosh, and on the east Dhansiri River.
The core area of Manas Park is 360-km. Hispid Hare, Pigmy Hog and Golden Langur are some of the rare species of animals to be found in the park apart from Tigers, Elephants, Rhinoceros, Wild Buffalo, Wild Boar, Sambhar, Swamp Deer, and Hog Deer, which are easily spotted at this park. Come winter and Manas is full of Migratory birds like the Riverchats, Forktails, Cormorants and Ducks like the Ruddy Shell-Duck. There are regular woodland birds like the Indian Hornbill and Pied Hornbill also found over here. Butterflies and reptiles are also found aplenty in Manas. In the river water, you can enjoy boating and fishing as well. Coloured pebbles of the Manas River are an added attraction not to be missed.