Hemis National Park
---
The Hemis High Altitude National Park includes the catchments of two valleys, which drain into the River Indus. It is named after the famous monastery -- Hemis, and sprawls over 600-sq-km in the Markha And Rumbak valleys. The conditions are very bleak and desolate in this park. The terrain is rocky and the thin soil cover supports a poor vegetative growth. Dry alpine pastures are present in sheltered locations. Grass growth is relatively rapid during the summer season after the melting of the snow.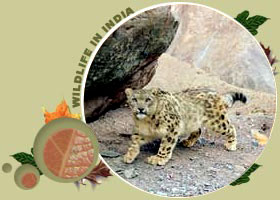 The park was established in the year 1981 to preserve the dwindling population of wildlife in Ladakh region with an area of 600 sq km. The park has been earmarked as one of the snow leopard reserves under a central government project to conserve the species, its prey population, and fragile mountain habitat.It takes its name from the world famous Buddhist Gompa situated here.
Location :
Near Leh, J&K
Area :
600 sq. kms.
Best Time to Visit :
March to September
Climate
The climate of Ladakh is one of extremes, with considerable daily and seasonal fluctuations.
Flora & Fauna
The vegetation in the Hemis High-Altitude National Park can be characterized as high-altitude desert with sparse grasslands and herbaceous vegetation on mountain slopes and in harmony with rest of Ladakh. In the lower valley of the park, one can find scrublands and patchy forests. Most of the endangered species of Ladakh have their home in Hemis. Some 11 species have been recorded, including wolf (Canis lupus), Pallas' cat (Felis manul), snow leopard (Panthera uncia), ibex (Capra ibex), bharal (Pseudois nayaur), Tibetan argali (Ovis ammon hodgsoni) and Ladakh urial (Orientalis vignei). Some snow leopards have also been recorded in the national park.
There is a good population of bharal and urial in the park, as well as some ibex west of the Zanskar River. Around 30 species of avifauna have been identified in the park, including Himalayan snowcock (Tetraogallus himalayensis) and chukar partridge (Alectoris chukar). Hemis National Park has some rare wildlife species like the serow and Tibetan antelope, shapu, bharal, great Tibetan sheep, ibex and snow leopard. The fauna too comprises species which are not seen at lower altitudes like the Himalayan snow cock and golden oriole.
How to reach
By Air
The nearest airport is Leh, which is connected by Indian Airlines to Delhi, Chandigarh, Srinagar, and Jammu.
By Rail
The nearest railhead is Jammu, situated at a distance of around 690 km. Jammu is connected to all parts of India.
By Road
The Leh-Srinagar National Highway officially opens from May 15 to November 15 every year (depending on weather condition). The distances of some important destinations from Leh by road are: Srinagar, 434 km; Kargil, 230 km; Manali, 497 km; and Keylong, 380 km.