Great Himalayan National Park
---
Place:
Kulu district (Himachal Pradesh)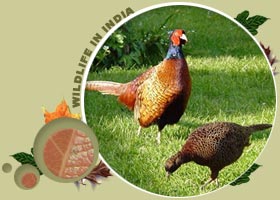 Nearest town:
Kulu (60km)
Best time to visit:
September to November and April to June
Attractions:
Wild Mountain Goats, Musk deer, leopards, bears, Pheasants
The park officially known as the Jawaharlal Nehru Great Himalayan National Park, was established in 1984 in Kulu district. Bounded by the towering peaks of the Himalayas on three sides with an entrance from the west, the park covers an area of 620sq.km.of the previously-established Tirthan Sanctuary. The park which lies in the Seraj Forest Division in the upper catchments of the rivers Thirthan, Jiwa and Sainj has an altitude varying from 1500 to around 6000 meters with snowy mountains, glaciers, river valleys, cliffs and dense forest.
The vegetation here ranges from deciduous forests of blue pine and cedar, oak and bamboo and grass meadows covered with wild flowers. The fauna consist of wild mountain goats and sheep like the Himalayan thar, bharal, goral and serow, musk deer, leopard, brown and black bears, wolf, flying squirrel, langurs, rhesus macaques and snow leopards which are rarely seen. The birds both indigenous and migrant variety are found including the Western tragopan, monal pheasant, cheer pheasant etc
Special permits from the Park Director at Shamsi or the range officers at Larji, Sairopa, Banjar or Sainj are required by tourists for entrance to the Great Himalayan National Park. No vehicle is allowed inside the park. Visitors has to go on foot accompanied by Guides which is compulsory and the entrance is allowed only between sunrise and sunset. It is advisable to stick to the best season from September to November / April to June as the winters are too cold and the monsoons bring in landslides and muddy trails.
Where to stay
There are guesthouses available for stay at Kullu. There are also 14 inspection huts or rest houses with minimum facilities within the park, but prior permission is needed for occupying them. Forest rest houses exist at Aut, Sainj, Sairopa, Banjar Shangarh etc.
How to get there
Air
The nearest airport at Bhuntar, at a distance of 50km. from the park and 10km from Kulu is well connected to the rest of the country. Taxis and buses are available from the airport.
Rail
The nearest railhead is Joginder Nagar nearly 100km from the park and Chandigarh.
Road
Kulu is well connected to Shimla, Chandigarh, Delhi and Ambala. There are luxury buses available from Kulu to Shimla (240km) and Delhi via Mandi (530 km)and back. From Kulu buses ply through NH # 21via Aut (30km). From Aut the road access to the park is only up to Gushaini or Neuli.