Camel Safari
---
Safaris provide you with a rewarding and educational adventure. The Thar desert in Rajasthan with its vast stretches of sand, dotted with dunes and its own specially adapted shrubs and wild life is ideal territory, Our expert navigator and the villagers on the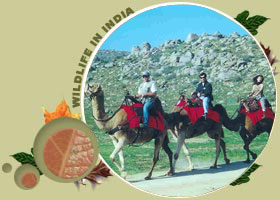 way add color to an unforgettable experience if you are prepared to sit out the somewhat uncomfortable but adventurous ride.
Camel Safari is one of the unique way to explore small villages in Rajasthan. Riding a camel is not easy as people consider. It is neither a great test for endurance. A camel safari is a classic trip for the adventure seeker though it takes a little while getting used to the smells and see-saw swaying of the camel. In fact if you are sensitive to smells and dust and prone to travel sickness then perhaps this is not for you. Either way it's advisable to carry some medication to prevent travel sickness.
Get close to nature on your own pace.The adventure of visiting the deserts of Rajasthan multiplies on camel safaris.This is a charming way of experiencing life in Rajasthan's Thar Desert.
The Camel Safari in India covers Jaisalmer, Jodhpur and Bikaner. Located in Rajasthan, these places prospered during the bygone eras from trade. Illustrating this are the many palaces and hawelis built by the rulers and merchants for their comforts, the construction material usually being sand stone.
You can take a safari which has been organized by a tourism company which includes your staying arrangements, food, water every thing. But if you are very adventurous, then you can make all arrangements yourself, without much difficulty. People allergic to dust or suffering from back pain are advised against this safari. As a camel ride is not a very smooth ride. It is something akin to a bumpy ride, and the hard skin of the camel doesn't help matters. It is also advisable to take any medicines that would be required, as deserts don't have much shopping complexes.
Few Camel Safari Sites in India are :
Bikaner
Jaisalmer
Jodhpur
Shekhawati Safari
Pushkar
Chambal Safari
Rann of Kutch